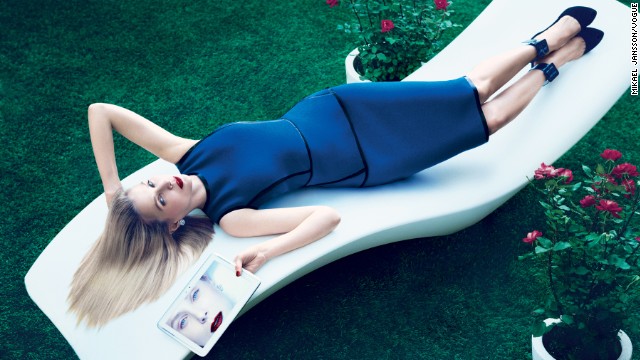 Since taking the helm of Yahoo after years in Google's upper echelon, Marissa Mayer has been at the center of plenty of talk not focused on turning around the once-mighty Web giant.
As Silicon Valley's most prominent woman, her appearance, her motherhood and the way her policies will affect female employees have all, fairly or not, been the subject of spirited discussion.
Now, a two-page photo spread in September's Vogue magazine has them talking again.
In the photo, Mayer lies upside-down on a backyard lounge chair, wearing a blue Michael Kors dress. Her blond hair fans out at the foot of the chair, her Yves Saint Laurent stiletto heels point toward the top and she holds a tablet computer featuring a stylized image of her face.
In the minds of some, that single image is enough to undo a 3,000-word article -- the first in-depth interview Mayer has granted since taking the reins at Yahoo -- that focuses on her successes and vision in a male-dominated tech world.
Was Marissa Mayer out of line?
Yahoo CEO: Work in the office or quit
Why the interest in Yahoo CEO?
"Nothing says, 'I'm a powerful woman' like a photo of you upside down on a weird couch," Stan Horaczek, an editor at Popular Photography, said on Twitter. "Nice work, Vogue."
"Being equal means you can be (feminine) AND smart," wrote online business consultant Angie McKaig. "However, still wincing over Marissa Mayer all stretched out for Vogue."